In an isle full of candy bars disguised as health food bars it's difficult to get through all the clutter and junk. Sometimes it's just downright exhausting and discouraging flipping over every package to read the ingredients only to place the no longer contending product back on the shelf. Like most people, at first I focus on price and not nutrients, because price does make a difference; we all only have so much of a food budget. Combine that with seeing only a few ounces per package compared to so many dollars, and I often wasn't even motivated to flip over and read the ingredients of many potential new products. I think part of me was also somewhat jaded, having been disappointed time and again by the lack of nutrition and quality ingredients, and no shortage of unhealthy carbohydrates, fake sugars, additives and preservatives, that I wasn't sure why I was even still in the isle looking.
But this experience almost caused me to deprive myself of deliciousness packed full nutrients and only healthy ingredients. When I flipped over the Wild Zora food bar I was pleasantly surprised to read free range turkey or grass fed beef, organic vegetables and fruits, spices instead of (so-called) "natural flavors", and the protein to carbohydrate ratio was surprisingly respectable.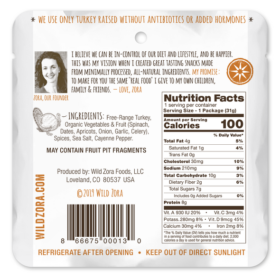 I bought two bars to try, and took them home.
I went on the Internet and read up on the brand's story, and I kept nodding my head to what I was reading. Yes, meat [protein/fat] and vegetables & fruits, as a meal. Nothing but crap filled with horrid ingredients on the shelves. Create a solution and start a business of producing exactly what it is you need. A story that sounds all too familiar.
A week later I stocked up my pantry for my travel and hiking needs. I would have never believed that you could make beef taste so good that you don't even notice that they snuck in some kale.
As far as as size goes? Well, I've adopted the opinion of the author who wrote The Dorito Effect – that our bodies have been designed to crave foods based on nutritional needs. (Assuming our taste buds have not been "hacked" using artificial and "natural" flavors.) When foods are nutritionally lacking, we naturally crave more of them to fulfill the nutritional requirement (or deficiency) that our bodies need for optimal health. We end up eating more and more and come to expect larger meals because they are diluted in their nutritional value. (For ideal health what humans require are "nutrient dense" and "calorie poor" foods. However, this is the exact opposite of most food today, which are high in calories and low in nutrients.) And here is why I love the Wild Zora bars. They may be small, but  they're also dehydrated. (Their paleo meals to go are actually freeze dried.) So the weight is not a fair judgement, you're just not paying for water.
Instead of the typical questionable crap that's generally put into food bars, Zora bars are so packed full of natural nutrients (from vegetables and fruits) that they're almost too good to be true. And the spices make them taste great, so you immediately feel sustained. I'll be honest, it felt awkward at first, because out of mere habit of normally eating more food, I felt that it wasn't enough and I should eat more. But it was just right, I didn't need more, and my body was telling me so.
As an added bonus for people with food allergies, Wild Zora products are free of most allergens including peanuts! As a household that suffers a deadly peanut allergy, it is almost impossible to find foods that are peanut free, let alone peanut-free freeze dried foods. Some of their products also follow the AIP AutoImmune Protocol diet which may also be beneficial for people with food allergies and sensitivities.
And price? Well, you get what you pay for, that's for sure. The final meal may seem small but when it comes to proper nutrition, you're paying for that instead of junk food fillers to make something appear more than it is. And don't worry, they are filling; just drink lots of water, since the dehydrated food will re-hydrate and expand. They just look small, but they're not.
That's when I realized I found my perfect travel food (almost perfect – wish it was organic, but grass fed/free range is pretty darn close). Perfect for on the road, on the plane, perfect for hiking, and camping. While I generally eat only fresh foods that I cook myself, since that is the best way to know what's in your food, life on the road doesn't permit such luxuries. So I've finally found an acceptable substitute. Oh, and it costs much less than the overpriced airport or restaurant food, and doesn't take up much space, or add too much extra weight.
So here you have it, the perfect travel food. Tasty, nutritious, ligthweight, stores for a long time, and most importantly, it's made by a brand that so far I have no reason to doubt their quality or trustworthiness. At first I thought I would keep this delicious and nutritious secret to myself. But then I thought no! I must tell the world, and decided to carry them in our store.
Nature's Complement is a participant in the Amazon Services LLC Associates Program, an affiliate advertising program. If you purchase products on Amazon through any of our affiliate links, we get a small percentage of the transaction, at no extra cost to you. We spend a lot of time writing the articles on this site, and all this information is provided free of charge. When you use our affiliate links, you support the writing you enjoy without necessarily buying our products. (However we would appreciate if you would do that too!) Thank you for helping to support our work, however you choose to do so.
These statements have not been evaluated by the Food and Drug Administration. This information and/or products are not intended to diagnose, treat, cure or prevent any disease.