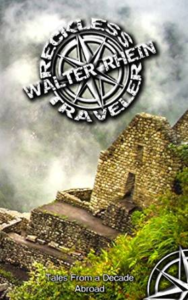 Reckless Traveler by Walter Rhein.
I decided to read this book because I've been doing a lot of research for my future trip to Central and South America. I order many of my raw ingredients from all over the world, and many are claimed as fair trade and organic, and well… I just want to verify for myself. Plus I want to see the beautiful trees that some of these oils come from, and unfortunately many just do not grow here in the US.
In doing my research for traveling abroad, I have read a tremendous amount of advice, but all this advice, is always in regards to being somewhere for only a short period of time. That's where this book, Reckless Traveler by Walter Rhein, caught my attention. Mr. Rhein lived abroad for a decade, and has written a great deal on the topic. I decided to give this book a try, in hopes of acquiring advice not intended for a short timer. Why? Because I plan on not just visiting Central and South American countries, but actually learning about them, the culture, the people, and most importantly, how my raw ingredients are produced. I don't want to show up as just a North American there to see stuff. I want to show up as a partner, someone who not just buys their products, but also understands the work, the people, and how these raw ingredients end up in my hands to put in my products.
Walter Rhein completely changed my concept of what it is like to survive living abroad. He also taught me a few lessons about the important things in life. A reckless traveler indeed, at least by my standards, I realized Mr. Rhein was actually more brave than most people I know, to embark on the adventure that he did. He stayed in Peru for as long as he could and managed to live a moderately comfortable life (I say moderately as his definition of comforts probably differ from mine).
Not only was he able to manage to survive, but he did so while embracing the Peruvian culture, learned the language, and had many hilarious reckless events occur. While my trip is going to be a lot more deliberately planned and much shorter, I found his story gave me a much needed comfort of what to expect while in foreign countries. Foreign countries where I don't speak the language, and only know of the culture from what I have read online, which I'm sure I will learn are poor representations of what it will actually be like in person.
When I first started reading Reckless Traveler I almost put it down, as it seemed Mr. Rhein kept dropping off in the middle of his story, leaving me to only imagine what happened next. Yet I decided to continue reading, and as I got engrossed in his story, I realized he was using that as an intentional writing style technique. He makes points by offering the reader a glimpse into a situation, allows the reader make their own judgment about it, and then corrects stereotypical assumptions by finally letting the reader know what actually occurred. A very sneaky yet brilliant way to change someone's preconceived notions.
More importantly, Mr. Rhein did a very good job of using his stories of living in Peru, and visiting other countries, as guidance in life we should all be considering at one point or another. Our values here in the US are much different than the values of people residing in other places, and sometimes I think we get lost on what really matters.
Overall a great book. I'm glad I read it. Recommended for anyone interested in traveling internationally, particularly to South or Central America.
Nature's Complement is a participant in the Amazon Services LLC Associates Program, an affiliate advertising program. If you purchase products on Amazon through any of our affiliate links, we get a small percentage of the transaction, at no extra cost to you. We spend a lot of time writing the articles on this site, and all this information is provided free of charge. When you use our affiliate links, you support the writing you enjoy without necessarily buying our products. (However we would appreciate if you would do that too!) Thank you for helping to support our work, however you choose to do so.
These statements have not been evaluated by the Food and Drug Administration. This information and/or products are not intended to diagnose, treat, cure or prevent any disease.